Engineering and Social Change


The Center for Engineering Concepts Development established a relationship with the Neilom Foundation and the School of Public Policy at the University of Maryland to offer a new course to introduce engineering students to the ideas of social change and social entrepreneurship through the intersection of concepts from both engineering and philanthropy. The vision of the course is to inculcate an appreciation of the social change that Engineering creates, and how not only for-profit enterprises but also philanthropy and non-profits act as catalysts. Students will appreciate that there is more to Engineering than just Engineering and be inspired to use their skills and mindset to practice social entrepreneurship and pursue ideas that make a difference.

Our Pilot Spring 2015 Group
Fall 2016: Expanding our Reach
For our third offering of this course we are expanding our course and welcoming Mechanical Engineering students and Clark School students from all engineering disciplines.
Spring 2016: Expansion to College of Southern Maryland
In the Spring 2016 semester as part of an ongoing partnership with the College of Southern Maryland (CSM), CECD supported 25 students in BAD 1210, a business administration course with an innovative Entrepreneurship in Southern Maryland challenge. In this challenge students were asked to work in teams to undertake an entrepreneurial approach to identify a problem pertinent to their community in Southern Maryland and to develop a sustainable solution using their management skills to create maximum social impact. A celebration was held on May 5, 2016 at the LaPlata campus, with Senator Thomas "Mac" Middleton in attendance, as well as CSM President Bradley Gottfried, media and nonprofit representatives and students and family members. The Neilom Foundation provided $2000 in total prizes – the $1500 First Place prize went to Team Life Planning Curriculum Project, with the $500 Second Place prize going to Team Planting Hope, who decided to donate their winnings to the nonprofit they worked with, the Southern Maryland Food Bank.
Fall 2015: Round Two
CECD has now completed the second semester of the Engineering for Social Change course, held in Fall 2015. The Neilom Engineering for Social Change Grant of $10,000 this semester (after much deliberation!) was granted to Bread and Water for Africa, an organization proposing to install a water well in Freetown, Sierra Leone to serve 2500+ residents with clean water for the next 15-20 years. As of September 2016 the well is complete, and in use by the people of Freetown, Sierra Leone.
December 2015: Fall 2015 ENME 467 Engineering for Social Change Grant Ceremony

Spring 2015: The Pilot Course
CECD conducted the first semester of the Engineering for Social Change course in Spring 2015 with the assistance of the Center for Philanthropy and Non-Profit Leadership, with the Neilom Foundation providing $17,000 in total grant funds and awards. After a semester-long process and many hours of discussion and voting the students chose to award the $10,000 Neilom Engineering for Social Change Grant in the area of access to local healthy food to Washington D.C. nonprofit FRESHFARM Markets.
The inaugural recipient of an Engineering for Social Change Grant will use the award for their FoodPrints program, an educational program that integrates gardening, cooking and nutrition education into the curriculum at five DC Public Schools (DCPS). FRESHFARM Markets will use the money specifically for the installation of a garden and greenspace at the newest school enrolled in their program, Ludlow-Taylor Elementary School.
May 18, 2015: Spring 2015 ENME 467 Engineering for Social Change Grant Ceremony

April 24, 2015: Students visit FRESHFARM Markets at Ludlow-Taylor Elementary School, the winner of the Spring 2015 Neilom Engineering for Social Change Grant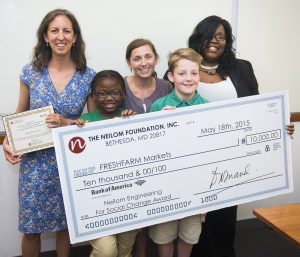 Learn More
Hear the "voice of the students" with postings from each of students in our classes on our Blog. 
See Pictures from our class on our Pictures page.
For more information see our recent article from Fall 2015 an article from Spring 2015 on University of Maryland's UMDRightNow about this course, or contact the Course Manager, Dylan Hazelwood, at dylan@umd.edu.